National Schools Breakfast Programme
National Schools Breakfast Programme
10 September 2020 (by Beverley ATKINS (batkins))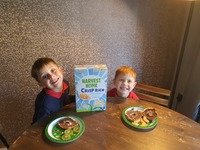 As notified yesterday, we have teamed up with The National Schools Breakfast Programme, who have provided all of our children with cereal and bagels to enjoy at home for their breakfast!
We were delighted to receive a photo from two of our pupils who look to be thoroughly enjoying theirs!
We hope all of our other pupils enjoy theirs too!