Come on England!
Come on England!
7 July 2021 (by Joanne Griffin (jgriffin))
Whingate made the news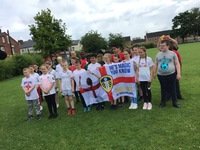 Today the children were very excited to be taking part in our celebration of England taking part in the Euro 2021 games, and dressing in red and white or sports kits. A group of our children gave an interview to local press.