Chess Tournament in London!
Chess Tournament in London!
8 December 2021 (by Beverley ATKINS (batkins))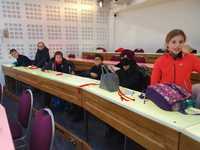 Today, some of our Year 5 and Year 6 pupils have travelled to London to take part in a chess tournament.
They have already enjoyed their train journey down and have mastered the Underground to reach their competition venue.
They are all very much looking forward to their fun filled day of chess ahead of them and we wish them the very best of luck!